Benjamin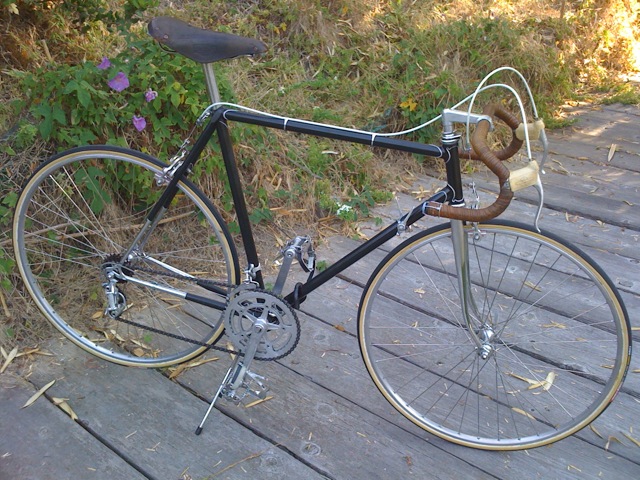 And when I work with the steel and leather and alloy that makes up this imagination, I have no choice but to understand that it is the mind of another human, like me somewhat. This is an idea. It is in some ways the most unnatural thing in the world, to imagine my body attached to wheels, my hands gripping bars in this way. It is nothing more than the vision of some other mad man, an interpretation of the human form; a mental digestion of human movement. When I touch it with tools I feel it exactly thus. My editing, commenting on the thought. My criticism of this view a conscious gardening of the body. If I was ever a bramble, this bisected parallelogram will force me into a hedge, and for that am I any more beautiful? But is seeing beauty the same as beholding? Here is where I engage. I ride. I put myself into the vision of another. More intimate than that wet coitus I put my whole being into that concept of form, held I may know not where or when. God, I hope it is someone I can love because I am about to bend my will thus and succumb. Barely clothed, almost Greek, mother*%$&k. I am engaging your mind. I am becoming your ideal. I am wielding my flesh thus and you are the master of my body as I am so. 52/45 x 13-23, 700c; 23 x 28. 56. The combination to my heart.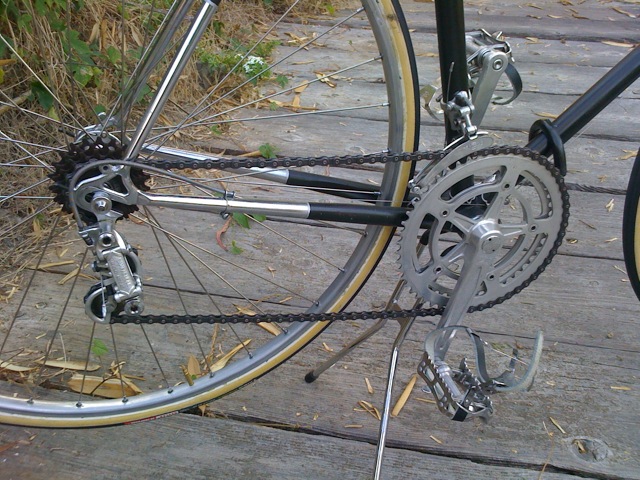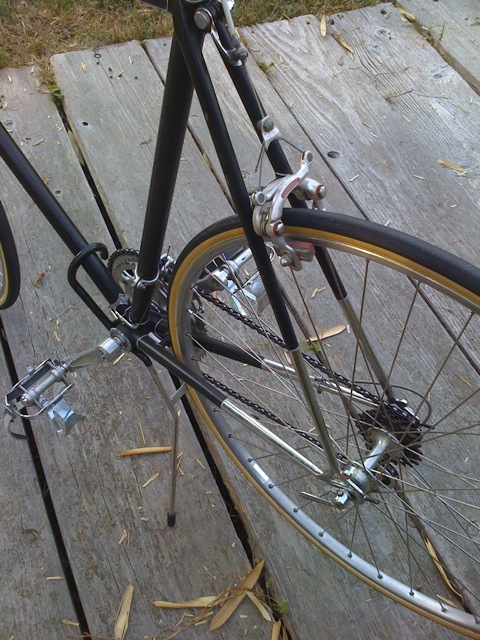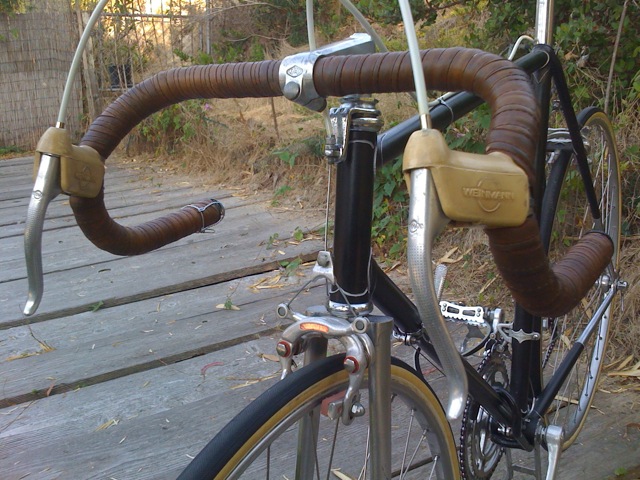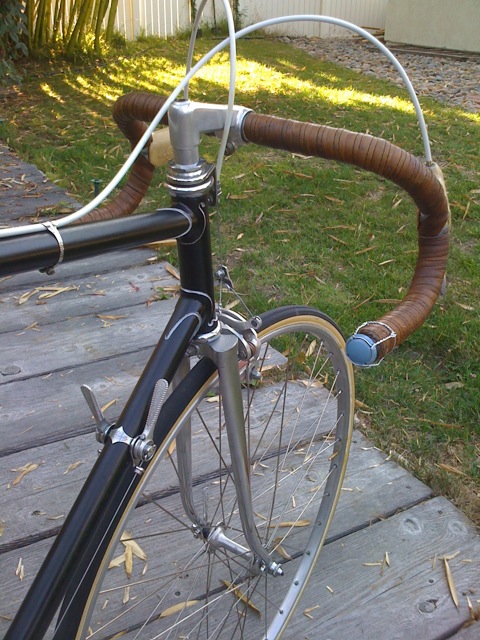 July 20, 2012
Ah, summer
Having been on travel all over the bad food and warm beer half of Europe for the last three weeks, I have fully intended to get back to the regular Swami's routine. But I have a bunch of excuses as usual, so screw you guys. :)
Not that I've stopped riding my bike entirely, but "see you when I see you." Probably around the time I run out of Scotch, get sick of my running shoes, and miraculously wake up at 4:30 am 5 days in a row with nothing to do.
But to my point: I have neither the ambition to pull away from nor the interest to slow down and chat with anyone wearing a Mellow Johnny's kit or a UW Madison headband. I like you gurus just fine, and I have sucked your wheels because sometimes, in a rare and amorous mood, you suck mine. But if I don't know you and we don't share a jersey... well, it's like that creepy guy that takes the seat right next to you on an empty bus. If some stranger wants to stare at my ass all morning... Let me put it this way: even a dog would pass now and then, if for no other reason than to let me have a sniff, too.
Neither my morning commute ride nor on-bike cocktail hour are the appropriate time to creep up behind me and breath heavy on my neck. And if I come to a stop light after 10 minutes or so of this, do not expect me to be interested in your opinions about weather, scenery, or the Performance Bike catalog. You didn't seem to be in a hurry when I passed you at a ridiculous difference of pace, so it isn't about my helping you arrive on time. And if you're barely keeping up, how can it be about pride? You certainly aren't getting any better a workout, 'cause I hear you back there wheezing and freewheeling and sucking on your juice box. Are you just trying to make me feel like a slouch for taking an off-pace day? I don't come to your crappy Midwest town and knock the corn cob out of your...
You rightly infer that the Swami's/FOS community is not the ideal audience for this message, but there's no Google group I know of called "weak-ass, sunblock slathered Joe-Bobs on Treks." So instead, I simply ask you to forward this message (not this e-mail) to those Illinois natives you may meet, paying for our municipal services each year with the tax on their Seaworld passes: Tobias brakes and swerves erratically. He is a total $&@! who believes that your hospital bills support local starving med students.
Maybe I will have it printed on my jersey pocket. Too much?
Oh yeah, also good luck at San Marcos, everybody!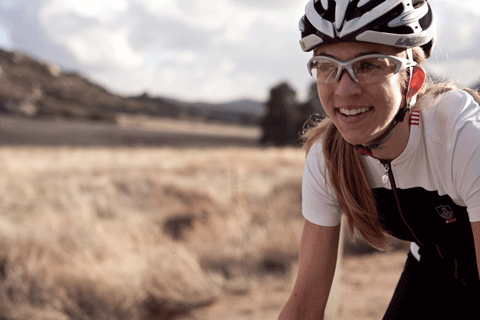 March 31, 2010
Hello from rainy, windy Belgium!
A few days ago I was talking to my husband and he commented, "You know, Eric was wondering if you're ever going to start Stage 3 of the Tour of New Zealand, let alone race in Europe." See, Eric had been following my updates on dougreport.com when they suddenly stopped. Had Eric started following me on twitter, he would have been shocked to discover that, since New Zealand, I had trained in San Diego for 2 weeks and flown to Italy! The last thing I would want to do is send someone into a state of shock, so I realized that it was time to make amends…

New Zealand! What a fabulous race! Hopefully you read press reports about stages 3-6, but if not, it's safe to say that we (Team USA) met our goals and were pleased with the results. The final tally: 5 stage wins, 1st and 2nd place overall in general classification, and 1st place in team classification. In all my experience racing, it was the most rewarding display of teamwork that I've been a part of and it was thanks to a great director, strong staff and a talented, hard-working group of riders. How often do riders get thanked by their teammates who take 1st and 2nd in an individual time trial? Both Amber Neben and Shelley Evans thanked us for our hard work leading up to the TT stage, because it allowed them to rest so they could shine in the time trial. Another example: in stage 5, Jessica Philips, Alison Starnes, and I had worked all day to control the race and, 5 km from the finish, we were close to bringing back the day's breakaway. We were nipping at their heals but needed a little extra "oomph" to close it down. At the perfect moment, Amber Neben, wearing the yellow jersey, pulled to the front, hit the gas, and strung out the peloton to bring Shelley within striking distance of the win. We rounded the final turn, and I suddenly saw Shelley virtually going backwards in the group with a dropped chain. Then, a second later, she blasted by me, found a hole, and took the win. How often will you see that from the race leader and team sprinter? Again, it's safe to say that we were pleased with how we raced.

Fast forward a few weeks…

I flew to Italy to train from the team house in Lucca and prepare for the first World Cup of the year. On Thursday of last week, we drove 350 kilometers northeast to the beautiful mountain town of Cittiglio, Italy, site of the Trofeo Alfredo Binda World Cup. The team for this race was Lauren Tamayo (straight off the track from World Championships), Andrea Dvorak, Sinead Miller, Alisha Welsh, and I.

The race course was fun and challenging: climbs ranging from steep & short to longer & winding, narrow roads to make things tricky, and quaint, small towns to motor through. Our team had a combination of strong climbers, quality sprinters, and good experience, but we knew it would be a hard race as this was our first race together, first race in Europe this season and, for some, their first World Cup.

From the start, the peloton was a bit antsy and it took two ascents of a steep climb in the town of Luino to thin down the pack. After only 30km, we had dropped nearly 50 riders. Around kilometer 45, we began a 6km climb, where a good group of 20 riders got away. Unfortunately, we were not represented, and the best teams such as Cervelo, HTC-Columbia, and Netherlands, had multiple riders. The remaining group behind, where all of the US team was, essentially shut down and was not interested in a chase.

On the first of four 18km laps, Manel asked us to try and bring the gap down by using the climb. I set pace for the 3km climb, and we saw the time gap fall from 2:30, 1:55, and as low as 1:15, but when we crested the top, the riders on my wheel were happy to let Team USA continue to do the work, as they had teammates up the road.

On to the next plan. During the next lap through town, Sinead followed an attack initiated by a Fassa Bortolo rider. From the peloton, you could see how tough their effort was in the headwind and slight uphill, but in no time at all, we heard that Sinead had made it across to the front group. Bene!

On the final climb, the big contenders sent their teammates to the front to drive the pace. Sinead lost contact after having put forth such a huge effort to bridge the gap on the previous lap. But, this was the story for the majority of the group as the size dwindled from 27 to 20 to 11 and finally 9 as a result of hard climbing, a crash on the descent, and the fast pace back into town. At the finish, 2009 winner Marianne Vos of the Netherlands, was first to the line.

Sinead finished a little bit back, in 18th place, racking up a few points in the World Cup rankings. Lauren, Andrea, and myself finished in the following bunch, even though in the results we were listed as "DNF." Alisha had some bad luck with crashes in the beginning, and was not able to finish, but is in good condition to start our next race.

Needless to say, Binda left us with a feeling of unfinished business. We were not happy with our team performance, but we will learn from the experience and make the best of our next five races together.

Speaking of next race: where will we be? On the pave of Ronde van Vlaanderen, of course! Also known as the Tour of Flanders, this race is considered the Belgian World Championships, and it has earned this reputation by being one of the most well-attended and hardest races on the calendar (for the women and the men!). We've already ridden the course and have seen not only what challenges the parcours will present, but the weather, too. Wind, rain, and cold are likely, but we will be ready!
Janel


February 25, 2010
Tour of New Zealand
Today the US National Team took to the roads of New Zealand racing 115 kilometers from Masterton to Palmerston North with a yellow jersey on the back of Shelley Evans and determination within each of the five-women on our team. The race started out with an intermediate sprint at kilometer ten. From that point on, Jessica Phillips and I patrolled the front of the bunch watching for threatening riders. It was a beautiful rolling road, but with those valley roads came fickle wind that changed direction and strength constantly.

After 30km, a two-rider break got up the road, and Jessica, Alison, and I began to set pace at the front. With the honor of having the yellow jersey in our team came the responsibility of defending. Defend we did. Over the next 65km we faced wind, light rains, rolling hills, and a Queen of the Mountain sprint at kilometer 78. We worked to keep the time gap to the breakaway at a manageable distance. And, all of this we did without race radios because of the new UCI ban for stage races of the 2.2 ranking.

At kilometer 97 came the next big challenge of the race: a 2.5km climb that we would summit only 10-15km from the finish. Alison, Jessica, and I brought Amber to the base of the climb where she got a gap on the field. Ruth Corset (MB Team) jumped up to Amber and the two of them quickly climbed away from the field. Behind, Shelley and I were in the fortunate position of being able to climb in the first chase group, letting others set pace and try to catch. Over the top of the climb, we could see Amber & Ruth down the road, and as we descended, riders from the NZ and Australia National Teams took to the front to try and close the gap.

Amber was in the enviable position of being able to sit on Ruth's wheel because our team was in the leader's jersey. With 8km to go, we caught them as the road rolled downhill. For the next few miles, teams attacked and tried to get away, but Amber, Shelley, and I were on the moves. As we came into the final kilometer, Shelley appeared to be boxed-in near the front of the bunch, but as we tore down the straightaway, she found her way into tiny holes and took her sprint all the way to the line. The finish was too close to call, but a few minutes later, we got the news: Shelley had won the stage and would stay in the yellow jersey for another day!

The word that defines today's stage is teamwork. It is incredibly rewarding to be able to ride hard with teammates who are willing to put it all on the line for each other. We all worked hard, supported one another, and raced as a team. And, to get the win and hold on to the yellow jersey for another day, is icing on the cake. Did I mention we are also leading the team classification?

Day three? Two stages. In the morning, 87km of road racing and, in the evening, an 11km individual time trial. More to come from New Zealand…

Janel
February 24, 2010
Tour of New Zealand


The racing season is underway and the US National Team is "down under." Well, down under the Equator, that is, racing the Women's Tour of New Zealand.
First, let me back up. The US National Team actually started racing in Qatar the first week of February at the Ladies Tour of Qatar. It was a good trip and a fantastic way to start off the year. Some exciting additions to the team this year include our director, Manel Lacambra, who joins us from the Women's Cervelo Test Team. It was also a great trip because we came together as a team, combining our strength, knowledge, and drive for strong teamwork and results. It was a great group of women to race with: Lauren Tamayo, Kat Carroll, Shelley Evans, Sinead Miller, and Amber Rais. The team worked to bring Lauren a podium result on the final stage and she powered to 6th place overall. Leaving Qatar, we could see that the US National Team would be performing at a high level this year: we have big goals and were off to a good start.
This brings us to our current race. The Tour of New Zealand is a 5-day, 6-stage race that will see us tackle four stages of hills & wind, one individual TT, and a criterium, all on the North Island not too far from Wellington. It's an honor to be here racing with 2008 World Time Trial Champion, Amber Neben, track star Shelley Evans, reigning US TT Champion Jessica Phillips, and TT/all-around racer, Alison Starnes. The staff, Manel, Rob Love, and Nadia Zucherelli, is dynamite and driven to support us through a tough week of racing. With this group of eight people, it's hard to deny that we are here to win.
Today's first stage was a 100km road race that started in Martinborough with rolling hills for nearly 60km and one harder climb at 70km before a fairly straightforward finish in Masterton. For the first 50km, things stayed together for the most part, although a few riders tried to get away. Much of the race was destined to come down to the climb at kilometer 70 and that's certainly where the biggest action began. The Australian National Team turned on the gas at the base of the climb and the bunch started to break up immediately. Amber, Shelley, Allison and myself were in the front group and when the best climbers started to apply the pressure, Amber was able to stay close. One rider managed to get a little distance, but with a 6km descent and a further 20km to the finish, there was little chance that a rider would stay away solo.
On the descent, Alison had an unfortunate crash. She was banged, bruised and had to get equipment changes, but she was strong and was able to finish. More importantly, she will start stage 2 and is motivated to continue what was a strong start to the race.
Shelley and I were in a chase group that formed on the descent and we could see Amber up the road in a group of eight. When our chase group caught the front group, it was "game on" – with a sprinter like Shelley and a GC rider like Amber, it was my responsibility to respond to attacks and be sure that no one threatening got away.
As we approached the final 6km into the finish, it was apparent that home-team favorite, New Zealand National Team, was setting up the finish for their sprinter, Joanne Kiesanowski. Shelley capitalized on this and expertly positioned herself near the front. Things looked promising as we rounded the final turn: Amber was in the group and Shelley was in great position for the sprint. When Shelley made her move, the other girls were left clawing for a draft that they wouldn't find. Shelley WON!
Tomorrow we start the day with Shelley in the leader's jersey. There will be a lot of responsibility on our shoulders, but we are an incredibly strong group of five women and we will be racing for the win.
Janel
June 13, 2009
Nature Valley Grand Prix
- sad but true
On day three of the Nature Valley Grand Prix, we lined up in Uptown Minneapolis for a 25-lap criterium. The course was described in the technical guide as "pancake flat" and that was no exaggeration! Pancake flat and L-shaped with six turns.
With our team out of GC contention for the time being, the criterium was a day to have our roughed-up riders relax in the bunch and our strong sprinters go for sprints and a stage win. A breakaway would have also played in our favor. From the start, Rebecca Much found herself in a great position to attack, so she got things going, and reminded the peloton that, despite a bit of bad luck the previous day, Webcor was still there to race.
I was hanging back in the bunch and gaining back my criterium-riding confidence. The team was under the impression that our bad luck had taken its full toll on Thursday, however, we were sadly mistaken. Somewhere around 5 or 7 laps into the race, I came around a right-hand turn and crashed, coming down on my right side, the same side I've been crashing on all season! Things did not feel right, but our team mechanic, Dave, and soigneur, Jeremy were there to help and I decided I needed to get back on the bike. Dave set me up on a spare bike and I jumped back into the race.
Perhaps it wasn't the wisest decision, but I finished the race, somewhere in the back, and made it through the rest of the turns without any problem. It was a relief to finish and immediately after crossing the line I had teammates and good friends coming to see how I was feeling. After a visit to the medical tent and a talk with my coach and team director, it was time to make the call to go home.
My collarbone is most likely rebroken, so I'll be back in San Diego on Saturday, training on the back of the tandem, and getting an x-ray to see how things look. With each of these crashes, I keep reminding myself that I'm lucky the racing season is long and that careers are even longer.
The team is down from eight to six for the remaining stages, but they are strong and are sure to make a mark on the final two stages.
June 12, 2009
Nature Valley Grand Prix
- Stage 3
After a fantastic showing at the first two stages of the Nature Valley Grand Prix, Webcor arrived at the start of the Cannon Falls Road Race ready to have another stellar day.
The road race began with a roaring fast neutral start because the first Queen of the Hills (QOH) sprint was at 3.6 miles into the race. Webcor was at the front, ready to pounce when the opportunity presented itself, and more importantly, ready to jump on moves that happened immediately following the QOH sprint.
Paces were high all day, especially between miles 14 and 45 when there were no sprints on the line. Attacks came fast and furious, and our riders were on all the moves. Yep, that's right… all the moves. With a rolling course, some winds to fight, and quite a few motivated teams, nothing stuck. As we approached the 3rd and final QOH sprint at mile 45, things were still together.
At that point, we would have preferred the race to end. At that point, every Webcor rider was in the peloton, up near the front, and we had all contributed to the effort. There is no doubt that we were racing our bikes really well as a team. Unfortunately, every once in a while, luck goes in the wrong direction, and in the last ten miles of the race, we had a bad luck streak that will (hopefully) never be duplicated…
While all of our riders were skillfully positioned near the front of the pack, a crash happened and five of our riders went down, including Alexis Rhodes who was holding 3rd place on GC and Erinne Willock who was in 4th. Katheryn Mattis, Amy Dombroski, and Gina Grain were also a part of the mayhem. With more bikes to replace and riders to tend to then our mechanic, Dave, has ever had to deal with at once, there was a scramble to assess the situation and get the girls rolling.
Meanwhile, Nikki, Rebecca, and Janel were still in the front, nearing a turn from the main road to the dirt road. While Nikki & Janel were ultra-focused on the lead motor bike (as were the majority of the front riders), the motor bike went straight, and at least 40 girls missed the turn! As Nikki & Janel blasted through the dirt section, summoning their European cobble riding skills, Rebecca flatted on the gravel and had to wait (and wait) to get a wheel from race support.
We entered the circuits, and Nikki caught back on to the front group by riding fearlessly through a technical circuit and putting everything she had into the effort. Janel was in a group behind the leaders. Putting in a heroic chase, Alexis caught up to that 2nd bunch and using her TT skills, and a little help from Janel, she worked her tail off to minimize time losses. Nikki rode strong and represented in the finish with a top ten placing (official results are yet to come in).
Friday is a new day and all eight of our riders are strong; we will pull through. The results are not what we were hoping for, but there is no doubt that Webcor will show up to Friday's criterium ready to race. At least now, luck has no choice but to be on our side!
June 11, 2009
Nature Valley Grand Prix
The first day of the Nature Valley Grand Prix, held in and around Minneapolis, Minnesota, brought two stages: an individual time trial in the morning and a criterium in the evening. The Webcor Builders Cycling Team came fully represented with eight riders for the first time since Redlands.
The time trial (TT) course was held along the Mississippi River with views of downtown St Paul across the water. The course was 6 miles in total, starting out flat for 2.5 miles, then a u-turn which brought us back 2.5 miles where we passed the start line, and continued on for a bit before the finishing half-mile climb. The skies were grey and the roads wet; with just a light rain, the course was a bit more interesting, but certainly not dangerous.
The time trial marked two important points for me: my first race back since I broke my collarbone 5 weeks ago and my first time on my time trial bike (except of course for a short test ride around the neighborhood the previous day). I was happy to be back with the team and racing, but, in some ways, it felt like the season was starting anew. My TT bike, although lovely, felt quite foreign, which reminds me why it is so important to have specific TT training. Given all this, I think it's fair to say I was tentative; I need to get to know my machine and become familiar with time trialing again.
Fantastic results were achieved by the team. While Kristin Armstrong, gold medalist in the Olympic TT, rode an impressive time to first place, Webcor earned 3rd, 6th, 7th, and 10th place out of 118 racers!
Having four riders in the top ten put us in an excellent position for the Downtown St. Paul Criterium. We knew it was going to be fast, aggressive, and exciting racing because this was the stage that offered the most time bonuses. These time bonuses were available on three intermediate sprints and at the finish, so it was important for us to gain precious time, possibly moving up a rider in the fight for General Classification (GC), and to prevent other teams from gaining time on our top riders. We had ambitious goals and were excited for some serious racing.
The criterium course was a basic rectangle shape, 1.1km long, and was run clockwise so all of our turns were left turns. That made it easy to keep track of things! The start/finish line was on a slight downhill, while the 3rd and 4th sides of the course were slightly uphill. The climb wasn't steep or long, but it was significant enough to make things more challenging!
From the gun, the race was fast, and Webcor riders were constantly in the action. Alex Rhodes, who finished the TT in 6th place, was keen on bonus seconds to move her further up in GC and she had help from Gina Grain and Nikki Butterfield, in particular, to make this happen. Our other top riders, Erinne Willock, Katheryn Mattis, and Rebecca Much, were up front the entire time to assist if needed and to keep an eye on key players from other teams.
Spectacular results came in every sprint as Webcor was always represented by Alex, Gina, or both! And, after incredibly aggressive riding, Gina finished third place claiming a spot on the podium. Alex mopped up enough bonus seconds to move to 3rd place in GC and Erinne sits just behind her in 4th place. Katheryn and Rebecca also maintained their top-10 ranking, so it was a great team race.
It's exhilarating when the team comes together with a great performance, and it's hard to not be a key player in the team's success. Coming back from a broken collarbone is a challenge, and I know that I need to have a little patience. This race has drawn so many great competitors that it will be a hotly contested race each day, and it will be hard for everyone. And, day one is only day one… there are four more days remaining and better results may come… In the mean time, it is wonderful to know that our team is doing so well.
April 23, 2009
Mur de Huy of La Fleche Wallone
Since the first week in April, I've been racing, training, and traveling with the US National Team in Europe. We've been hopping back and forth between Belgium and the Netherlands and even had time for a short trip to the team house in Lucca, Italy. Why, in all this time, haven't I written about the experience? I don't have a good excuse, but I finally found some inspiration: the famed Mur de Huy of La Fleche Wallone.
La Fleche Wallone is one of the Ardennes Classics, held in the Wallonian region of Belgum, this year in its 12th edition for the women's race and the 73rd for the men's. My understanding is that Belgium has two main regions, Flanders and Wallonia, distinguished by the languages spoken (Flemish and French, respectively) and, from my perspective, the terrain: cobbles and flatland in Flanders, constant rolling hills in Wallonia. Not that I have a preference, but I was happy to be able to use my (minimal) French-speaking skills and my climbing legs in Wallonia.
Covering 98 kilometers, the women's parcours is shorter in length than many World Cup races but by no means short on challenges. The first 30 kilometers covers rolling terrain, while the remaining portion of the race offers eight categorized climbs. Each of the climbs is grueling in its own way, ranging in length from 1km to 3km, kicking up to pitches of more than 20-percent, or summiting onto flat roads with no downhill for recovery. The Mur de Huy is the most daunting climb of all. Do not be deceived by its modest length of 1300 meters, because nearly two-thirds of the climb averages 18-percent, with one turn that feels like a wall, and a punishing final few hundred meters where you don't see the finish until you can hardly see at all.
The US National Team for this race included Jessica Phillips, Katharine Carroll, Kristin Sanders, Kacey Manderfield, and me. The race began atop the Mur and the first 20 kilometers required a certain amount of patience despite it being pretty hard. There were a few unfortunate crashes, but everyone on our team stayed out of trouble.
At the base of the first climb, I was positioned pretty far back, but I was able to use the wide roads of the climb to work my way toward the front of the group. As I did this, I saw a few riders attack and get a significant gap on the field. Over the radio I heard that it was Ina Teutenberg of Team Columba – Highroad and Trixi Worrack of Equipe Nurnberger, a dangerous duo. When we started the descent, I was sitting in 5th wheel and maintained that position until the base of the next climb, Cote de Haut-Bois at 44km. Nurnberger was keeping an eye on things in front, happy to let a larger gap open with their teammate up the road.
As the climb started, I saw an opportunity to bridge to the breakaway, so I cautiously accelerated off the front, got a gap on the field, and started to dig deep. At that moment, as I saw myself getting closer and closer to the breakaway riders, a flurry of who's who of women's cycling started to go with me: current World Champion, Nicole Cooke, Marianne Vos, Noemi Cantele, and so on. At that moment, I knew I could not let go, no matter how I felt. I could not possibly let this opportunity pass me by…
The move led to a breakaway of 13 riders – very promising but it was lacking the current World Cup leader, Emma Johansson, and Amber Neben, the current Time Trial World Champion. It was also a bit early in the race. We stayed clear of the bunch over the next climb, but when Emma and Amber caught us over the top of the Cote de Thon, things calmed down and came back together.
Much of the remainder of the race was a blur of trying to consume the energy drink in my bottles and eat every gel in my pockets in hopes it would make the next climb seem easier. Unfortunately the climbs don't usually get easier as you get closer to the finish of a World Cup race! Each climb hurt more, as I'm sure it did for everyone else, but when we came to the top of the penultimate climb, the Cote d'Ahin, I was still there, in the thick of the action.
The pressure was on: there was a solo rider off the front, a small chase group had formed, and I was in a second group, watching the race go up the road. Most of the riders in my group had teammates ahead, so they were not going to help close the gap. When I found myself deserted on the front, I attacked to draw out the motivated riders, and found some help from a Lotto-Belisol rider. When we got within a few meters of the front group, we made the left-turn onto the descent; thankfully, the pieces came together and our two groups became one. We were the lead pack.
When we hit the road leading to the base of the Mur, there was a flurry of bottles, bars, and gels being thrown to the side of the road. No one was interested in carrying a single extra ounce up the hill! Other than shedding excess weight, I tried to relax, conserve precious energy while moving up in the pack, let the team director know that I had made it to the front group, and reassure myself that I would make it…
What can be said about the climb to the finish? The noise from the fans lining the narrow, steep, Mur de Huy, drowned out the sound of my gasps for air, made me forget about the pain in my legs, made it hard to hear the thoughts in my head, and kept me looking towards the skies in hopes I would see the finish line. Every pedal stroke hurt more than the one before, so I counted them anxious for the final one. I reached the finish, unaware of my place, but feeling happy to have raced, and raced hard, in one of cycling's greats.
Hours later, after watching the men hit the climb in their race, piling back into team cars, and taking our first break on our drive back to the hotel, we found out that I placed 19th… good enough for 2 points in the World Cup ranking and a well-deserved pizza dinner with the team.
This coming weekend we will race twice: Omloop van Borsele on Saturday and Roselare on Sunday. I hope to send out a story about the first part of my trip, soon… but in the mean time, I hope you find a way to enjoy some part of your day, on or off the bike
Janel
February 9, 2009
"That's bike racing!"
Qatar Stage 2
"That's bike racing!" is a phrase we often here amongst cycling enthusiasts and racers; today I'm saying it to myself. About 20 km into today's 110km stage, I had an unfortunate crash when some Bott's Dots got the better of the riders around me. I went down, didn't hit my head (bonus!), but had a few people crash over top of me. When the bikes were cleared away I thought to myself, "Get up and ride up to the race doctor's car and get cleaned up on the go, just like the men!" Despite my enthusiasm (AKA adrenaline) the race doctor and EMTs were already at my side assuring me that I was not allowed to finish the race. The main culprit was a large cut on my right elbow. Fast forward through the ambulance, ambulance #2 (as the original needed to return to the race), hospital, x-ray... Twenty stitches later, I was headed back to the hotel with my new friend, Basar, who had seen me through each moment in the hospital. Very cool guy!
Meanwhile, back in the race... our strategy for the day was based on the predicted wind patterns. Thinking we were going to be stuck with another brutal crosswind for the first 20km, it was our plan to drive pace and force the peloton to shatter. When the winds did not behave as expected (we were in a head wind instead) we were forced to change plans as doing work in a head wind would have meant expending inordinate amounts of energy without successfully breaking up the field. All six of us were in great position and found the pace a wonderful change from the first stage.
At nearly 60km into the race, my teammate, Kat Carroll, got an unexpected gap on the field but was reeled in shortly before the first sprint point. The race stayed together for most of the race until following the second intermidiate sprint, when two riders took advantage of the fast pace in the tailwind. Gaining as much as one minute on the peloton, the women put in an impressive effort to hold off a charging pack of sixty riders. In the end, they finished 14 seconds ahead of the bunch sprint.
Team USA had another good day on the road, putting four riders in the front finishing pack. Our sprinter was unfortunately not there in the final kilometers, but it's only February and we're giving her legs a little more time to come around. Tomorrow is the final stage, and the team is still set to impress!
Despite a crash and being unable to finish the stage race, this has truly been an amazing trip. During my unfortunate journey to the hospital, I had the opportunity to experience a part of "real" Qatar, and it was the silver lining of my day. Besides the speedy and couteous service in the hospital, I was able to speak with locals, a visiting doctor from Michigan, and many women nurses about the country and their daily life. I have many compliments to pay, and many thank yous to give, but most simply, I can say that Qatar is a country of many kind and wonderful people who are in the process of growing in many ways.
Thanks for reading!
Janel
February 8, 2009
The Winds of Qatar
Stage 1: About 100km; almost completely flat
US National Team: Katheryn Curi Mattis, Brooke Miller, Kat Carroll, Rebecca Much, Lauren Franges Tamayo, Janel Holcomb
Today's stage started at the entryway to the Islamic Museum of Art, designed by world renowned architect, I. M. Pei. As fortune would have it, the only bathroom near the start was in the museum, so we got a sneak peek of this much talked about building. I only hope that we have time to visit before we depart in a few days.
At the start, there were quite a few spectators and a bit of media attention: Al Jazeera came up to the US National team as we were getting ready and asked us to do the day's program announcement (it went something like, "You're watching the Ladies Tour of Qatar on Al Jazzera Sports Network!"); a group of school girls were there to cheer us on and have their pictures taken with each team (I've never seen so many smiles!); and we had the opportunity to talk to two women, wives of US diplomats as they walked toward the museum (they pronounce Qatar, "Cutter" although the jury is still out on the most popular pronunciation).
The race began with 88 riders from 15 different teams. We rolled out for about 10km of neutral riding (no racing allowed as the lead cars stay right in front of us setting the pace). Standing through the sun roof of the lead car was cycling legend, Eddy Merckx, keeping his eye on the peloton, making sure things were under control. There was a small crash right before the official start, so when we got to kilometer zero, the officials stopped us allowing a few riders to attend to their bikes. The moment we were off, the race was ON!
Right from the gun, there was always one of us at or near the front. We knew the winds were going to play a huge role in the race, as they did in the men's race last week, so we wanted to keep our sprinter, Brooke, in a good position. After a few intense miles where Lauren and I were holding position in the top 15, Brooke and Katheryn passed me, and I drifted back slightly as my efforts began to take their toll.
Moments later, the pack was strung out, single file in the gutter, fighting the wind. I saw about 10 riders up front in a tiny echelon, but the rest of us were fighting the wind for every wheel position possible. There was no draft and gaps started to open up as people gave in to the pain in their legs.
The peloton shattered. Twenty meters in front of me, I could see the lead group of 20 riders, but the gap grew and grew as my small group failed to organize a powerful chase. I knew that Brooke, Katheryn, and Lauren were up ahead, but I never got there. The first 30 minutes of the race, we averaged 29 mph into a grueling cross wind. Crashes caused more and more riders to ease up the chase, and we slowly lost sight of the lead group. As it turned out, the race was over for nearly 60 riders.
In the front, the racing never let up. Brooke, Lauren, Kat, and Katheryn made heroic efforts to maintain their positions in the lead group. From 20kms to 50kms, there were eight women off the front, being chased by a group of twenty. The chase group dropped a few riders here and there, including Kat, but she eventually chased back solo. Katheryn and Lauren worked hard to reel in the lead break, and they succeeded in bringing both Brooke and Kat (now back in that group) up to the front. Brooke reported that the pace never let up… eventually it was just Brooke and Kat in the lead group of twenty.
Entering the final 3kms, the riders got their only tailwind of the entire race… which made for an insanely fast run-up to the finish. At 1km to go, there was a 180-degree turn and Brooke went flying through in third position. But the reverse in direction brought a change in winds and riders found themselves fighting a brutal cross/headwind. Brooke gave it her all for the win, but in the end, honors went to an Italian rider.
Katheryn and Lauren finished safely in a chase group of eight. Rebecca and I finished in the pack many minutes behind. And what is on everyone's mind? Watch out for that wind!
Tomorrow will bring another wonderful day of racing and the US National team fully intends to make a go for the win! Stay tuned to dougreport.com for the latest!
Janel
February 7, 2009
As many of you know, I'm beginning my racing season this year with the US National team at the Ladies Tour of Qatar. Yes, you read that right. Qatar… a tiny country on the Persian Gulf, about two-thirds down the Eastern coast of Saudi Arabia. There has been a men's professional race here since 2002 and, this year, the country decided to host a women's race as well. From my perspective, it's a pretty big deal that a Middle Eastern country would host a professional women's race, when it's not the norm to see women working or driving in this region, let alone wearing bike shorts! Unfortunately, there are no Middle Eastern women's team in the race (I'm not even sure that such a team exists), but it seems like a step in the right direction.

I arrived here on, um, Thursday, February 5th after 26 hours of travel from San Diego. I say "um" because I'm in that precious stage of jet lag where I'm really not sure what day it is nor can I keep track of all my travels. Good thing I'm writing it down as I go!

It wasn't a bad trip, and pulling into our hotel. a Ritz Carlton establishment known as the Sharq Village & Spa, made the trip seem even easier. Within seconds of setting foot in the lobby, we walked by a fountain filled with rose petals and were served a tiny cup of "Qatar Coffee" that tasted much like tea with cardamom. We found our rooms and headed straight to dinner. It was amazing! Thank goodness it was a buffet because I had the opportunity to try everything! The hummus and babaganoush were beyond anything I've ever tasted before, the chicken, lamb, rice, and vegetables were outstanding, and, to top it off, there was not one, but TWO tables of desserts to choose from! I had a piece of baklava, a cream-filled pistachio cake, and some fruit. Extraordinary!

Today, after an amazing breakfast and 15 minutes of internet time, the race organizer drove all the women's teams out to a place called Sealine Beach Resort to have lunch and see the start of the men's race. It was the men's final day of racing, and before they rolled out, I got a few pictures of Tom Boonen in the race leader's yellow jersey. After the men left the start line, we women lined up with our bikes, and followed them back towards Doha. It was about 40 miles of riding and the scenery didn't vary much from sand, sand, or sand. Ah, but there were a few places where you could rent ATVs or dune buggies, so if you're into that sort of thing, apparently Qatar is your place!

After the ride, it was time to shower at the Sharq hotel and pack up our things to move to the Ritz Carlton in Doha proper.

So what will the coming days hold? More amazing food and hopefully many more opportunities to take in the Qatari culture. We begin racing on Sunday and will have 3 stages. In between the racing, eating, and sleeping, I am going to try and get in a visit to the newly opened Museum of Islamic Art – we drove by the building today, designed by I. M. Pei, and it looks like something not to miss.

I also hope to get the chance to talk to more people about women in sports in the Middle East – one article I read before coming here explained that the Qatari Olympic Committee is going to use this race as a means to introduce cycling to girls in high school. That is a cause I would obviously support.

If you are interested in race results, they will probably be online at http://dougreport.com

Thanks for reading!
Janel

PS. A cookie in the shape of a camel was just delivered to the room. How cool is that?!