CyclingFans: Wednesday's Giro del Trentino Stage 2 departs Mori at 9:45am CET (3:45am U.S. Eastern) and is expected at the finish at Sant'Orsola Terme at around 1:45pm CET (7:45am U.S. Eastern). Giro del Trentino live streaming video should get underway at around 1:00pm CET (7:00am U.S. Eastern).
---
CyclingNews: Rabobank will return once more to the Amgen Tour of California, this time with climber Robert Gesink at the helm. The Dutch climber skipped the past two editions, but in each of his three prior participations, Gesink won the best young rider's jersey (2007, 2008 and 2009) and won stage 3 in San Jose in 2008.
---
CyclingNews: Two races last weekend caused big ripples in both the USA Cycling National Race Calendar and the National Criterium Calendar standings.
---
VeloNation: American WorldTour squad dominates team time trial.
---
---
Garmin Barracuda neo-pro making impressive debut.
---
VeloNation: British rider keen to come back after broken collarbone kept her out of 2011 race.
---
Peloton: "For four months now I've been working on this project with Michael Robertson. He's done the heavy lifting logistically, contacting and negotiating with sponsors, lining up flights, hotels and transfers, and sending emails to us at all hours of the nights with reminders, thoughts and information."
---
BicycleRetailer: When it comes to sports nutritionals, you can almost hear Allen Lim put quote marks around the phrase every time he utters it. Although his new company, Skratch Labs, is firmly in the sports nutritionals market, Lim's message to athletes is that they should eat food, not highly processed products.
---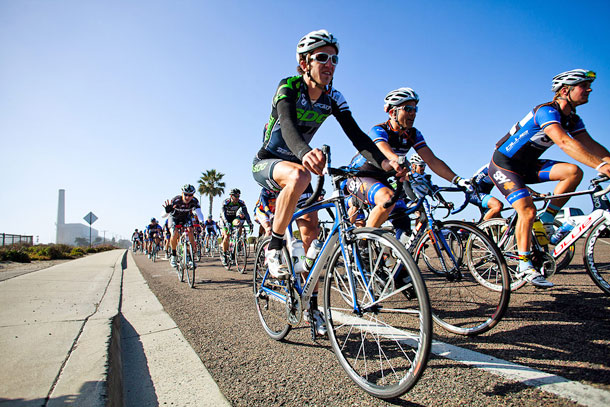 SoCalCycling: Nationally-ranked cyclists, including SPY cycling team members such as U.S. National Champions Ryan Trebon, John Walsh and Nicole Duke, participated in the ride. SPY donated all entry fees, upwards of $5,000, to the UCSD EyeMobile for Children at the Shiley Eye Center, a mobile eye exam and care resource for underprivileged youth in San Diego County.
---
BikeRumor: BMC's new Granfondo GF01 is a trueSpring Classics road bike. It got third in this year's Paris Roubaix, not a bad finish for it's debut, and in a vote of confidence for the new design, all of the BMC team rode it there.
---
BikeRumor: Falling under their Body Geometry aegis, Specialized's saddles were developed in conjunction with one Dr. Roger Minkow to "eliminate numbness and soreness normally associated with other saddles by enhancing blood flow in men." Who doesn't like the sound of that?
---
RBAction: Adding wheels to their already established line of road, cyclocross and time trial frames, Bailey continues to spread their roots in the ever-competitive consumer-direct market. They now offer three carbon wheel-depth options—32, 46 and 66mm—which come in both tubular and clincher.
---
road.cc: Russian cycling federation hopes that proposed event could secure UCI WorldTour status.
---
---
Rules of the Road
Bicycle Tutor
The Bicycle Safety Guide
Kid's Bicycle Safety Guide
On The Road, Bicycle Safety
How to Drive Around Cyclists
What drivers can do to be more cyclist aware
Guide to Bicycle Safety
Share the Road
Beginners' cycling questions answered
Pre-Ride Safety Check
Bicycle Insurance
Lexicon of cycling terms
How To Be A Good New Rider
'How to pee' - for women
Unwritten rules of cycling etiquette
Video: Performance
Video: Get Dirty
Video: Ride Right
Video Downloads, races and documentaries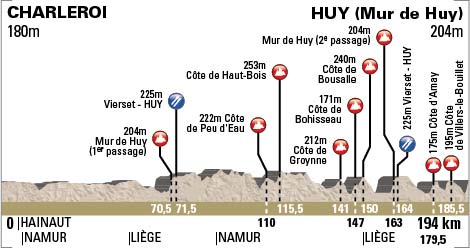 Wednesday's Fleche Wallonne departs Charleroi at 11:35am CET (5:35am U.S. Eastern) and is expected at the finish at Huy at around 4:29pm CET (10:29am U.S. Eastern). Fleche Wallonne live streaming video is scheduled to get underway from around 2:05pm CET (8:05am U.S. Eastern).
---
---
VeloNation: Sixth place in Amstel Gold makes Belgian champion optimistic, if not confident, ahead of Flèche Wallonne.
---
VeloNation: Lack of racing may explain disappointing Amstel Gold performance.
---
InnerRing: A four day stage race, it is the opening Alpine race of the year and good contest in its own right. But it is a crucial test ahead of the Giro d'Italia. This year's edition also features some wild climbing.
---
VeloNation: Russian squad encourages sprinter to cooperate.
---
BikeRadar verdict: 4.5 out of 5 stars. "Functionally equivalent to Dura-Ace – just heavier and much, much cheaper."
---
CyclingIQ: On reflection, the lavish attention heaped upon the final Tour de Filipinas stage pre-race by local Filipino media was justified. The 4,000 vertical metres of climbing punished all 73 starters but, tellingly, of the 19 riders that dropped out or finished outside the time limit, only one was local.
---
VeloNews: You might consider using this image as a decal on the stays!
---
BicycleRetailer: Less than a year after launching its women's specific brand, Giant is investing more resources into the growing division with a new apparel and accessories designer, a second demo van to visit retailers and an expanding bike line.
---
BikeRumor: Cycling isn't just about riding. It's also about street cred. Apres Velo is out with a horde of new after-ride tees to get you just that.
---
VeloNation: The big news is that the mountains jersey will turn blue in 2012, having been various shades of green since its inception in 1974.
---
CyclingNews: Two younger Americans raced to impressive performances at the second round of the UCI Mountain Bike World Cup in Houffalize, Belgium this weekend. First-year elite rider Stephen Ettinger (BMC) was the top-placed American in the elite men's race while Keegan Swenson (Cannondale Factory Racing) made the podium in the junior men's race.
---
---
---
In a late reaction to David Millar's book "Racing Through The Dark", which was published last year and in which the British rider recalls the years prior to his doping suspension, Belgium's former national coach José De Cauwer and the parents of Frank Vandenbroucke have refuted Millar's allegations that the deceased Belgian used blood doping at the 1999 World Championships in Verona.
---
InnerRing: This is the confession of Dennis Galimzyanov. In this handwritten letter dated today the rider admits to his team that he took banned substances and waives his right to the B-sample being tested. He states that he acted alone, even using capital letters to help emphasise nobody from the Katusha team was involved.
---
VeloNews: Breaking his media silence Monday, Contador spoke at length on Spanish radio about his controversial clenbuterol case that resulted in disqualification from the overall wins at the 2010 Tour de France and the 2011 Giro d'Italia, among other results.
---
RedKitePrayer: The recent car-bike collisions that put both Levi Leipheimer and his Omega Pharma-Quick Step teammate Tony Martin in the hospital with broken bones emphasized the dangers every cyclist faces when training alone on the open road. Leipheimer was hit from behind a few kilometers from his team hotel in Spain while riding on the far right of the right shoulder of a busy highway. Martin was only five minutes from his home in Switzerland, riding on a bike path, when he was apparently sideswiped by a motorist.
---
---
Bicycling: Few of us really appreciate how hardworking and integral the rear derailleur is until it stops functioning perfectly. Here's how it works—plus tips to keep it running like new.
---
road.cc: Superbly engineered bottom bracket that's fully user-serviceable; should last an age although the steel-balled version offers better value.
---
Ask The Pro: After a long layoff it could be possible that your bike position needs modifying. Your posture or muscles may have changed, meaning what was your optimum position before is no longer correct now.
---
SingleTrack: "A nice trail on a nice bike: I rode the Backbone Trail in the Santa Monica Mountains today on the Anthem X Advanced carbon/aluminum 29er cross-country race bike decked out with carbon-rim Giant PXCR 29er tubeless-compatible wheels."
---
Marijn de Vries: Tailwind, slightly downhill and we storm from Terlet in the direction of Arnhem. Kilometers without turns on the wide road that runs parallel to the highway.
---
VeloNews: On Sunday, Howes, 24, rode with strength that continued to defy the chasing peloton late on the approach to Valkenburg. He proved his durability is longer than his years; after being caught, he took a few pulls to help his teammates in the group, including local Thomas Dekker, and still managed to have the legs to finish 30th, at 47 seconds back.
---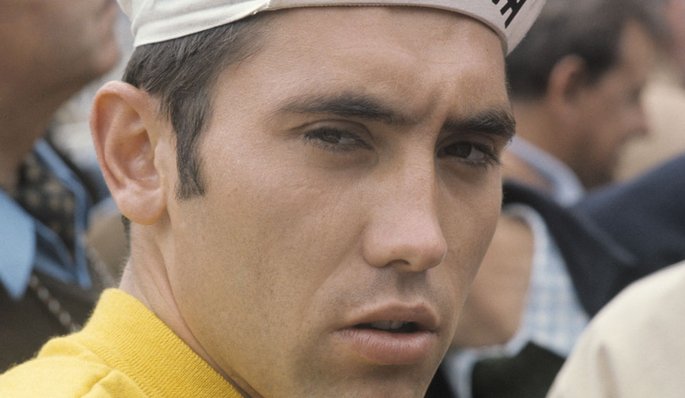 Cyclismas: Some useless statistics for you about Paris-Nice: though it is often used as a warm-up for Milan-Sanremo, only four men have doubled la course au soleil and la primaverain the same season 1; only four men have followed success in the race to the sun with a win in the Ronde van Vlaanderen 2; only five have doubled it with Liège-Bastogne-Liège 3; and only five men have taken the victory salute at the end of Paris-Nice and again at the end of the Tour de France 4. In all, only twelve men have pulled off even one of those doubles. And only one man has managed all four. That man is Eddy Merckx and 1969 was the year he did it.
---

U.S. Real Time Wind Map
2012 UCI World Road Cycling Calendar App
Cyclingnews: rider transfers 2011-2012, men
Cyclingnews: rider transfers 2011-2012, women
2012 UCI Pro Teams
UCI Cyclocross Calendar 2012-2013
Women on Bikes
Men's Pro Cycling on Twitter
Twitter Hashtags For Races
Shop Talk
Bike trade tweeps - who uses Twitter.
Store - bikes and accessorie for sale.
Archive - looking? it may be in the archive.
Health and Fitness - also training information.
Tips and Safety - what to watch out for.
Race Reports - Janel Holcomb.
101 Cycling Tips That You Should Know: Part I, Part II, Part III, Part IV, Part V, Part VI, Part VII, Part VIII